If there is one thing that Martinique has inherited from metropolitan France, it is its love for good products and refined gastronomy. Old recipes, traditional dishes prepared with love, exotic drinks… A real treat at all times! Martinique's cuisine, with its French, African, Middle Eastern and Indian influences, is so varied that it is quite possible to eat different dishes at each meal.
Whether you prefer meat or fish, everyone will find happiness around a good table, with the famous ti-punch as an aperitif (which we love at Ti' Paradise Villa).
what to eat in martinique ?
Fish and shellfish
Fish: tuna, king mackerel, dolphinfish, balaou, snapper or octopus. Crustaceans: lambi, lobster... Recipe idea, valid for all fillets (try the purse, it's delicious) or steaks: marinate for 45 minutes in olive oil with lime, peppers, Indian wood, thyme, onion. Cook on the barbecue or plancha.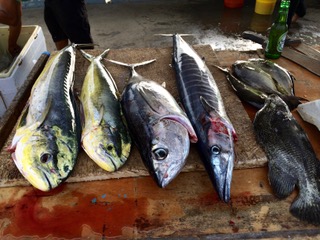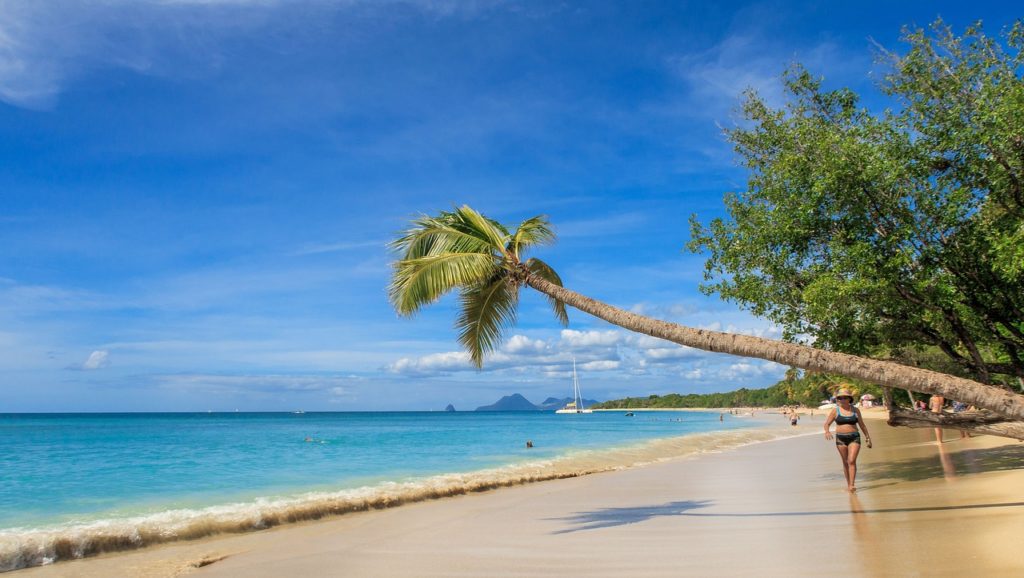 Our tips
Buy your fresh fish at the arrival of the boats (no precise schedule but often there in the evening from 5pm): At the three Ilets, at Anse Mitan before the casino, Arnaud sets up his stall on the roadside when he returns from fishing.Saturday morning: prepared fish and rillettes At the end of the beach Anse d'Arlet while leaving towards the diamond Or at the exit of the small cove. 10 euros/Kg and ready to cook. If you want to eat them fresh, ask the fishermen: fishing on order or buy frozen.
FRUITS AND VEGETABLES
With its microclimates, the island produces an impressive variety of fruits. Fruits: pineapple, guava, soursop, papaya (green, you can use it for a delicious sea sauerkraut by grating it), currant, star fruit (my favorite: cut in a star shape, very acid) Vegetables: manioc, sweet potato, yam, breadfruit, cristophine (I love to make a cristophine gratin that will be a perfect accompaniment to all your dishes).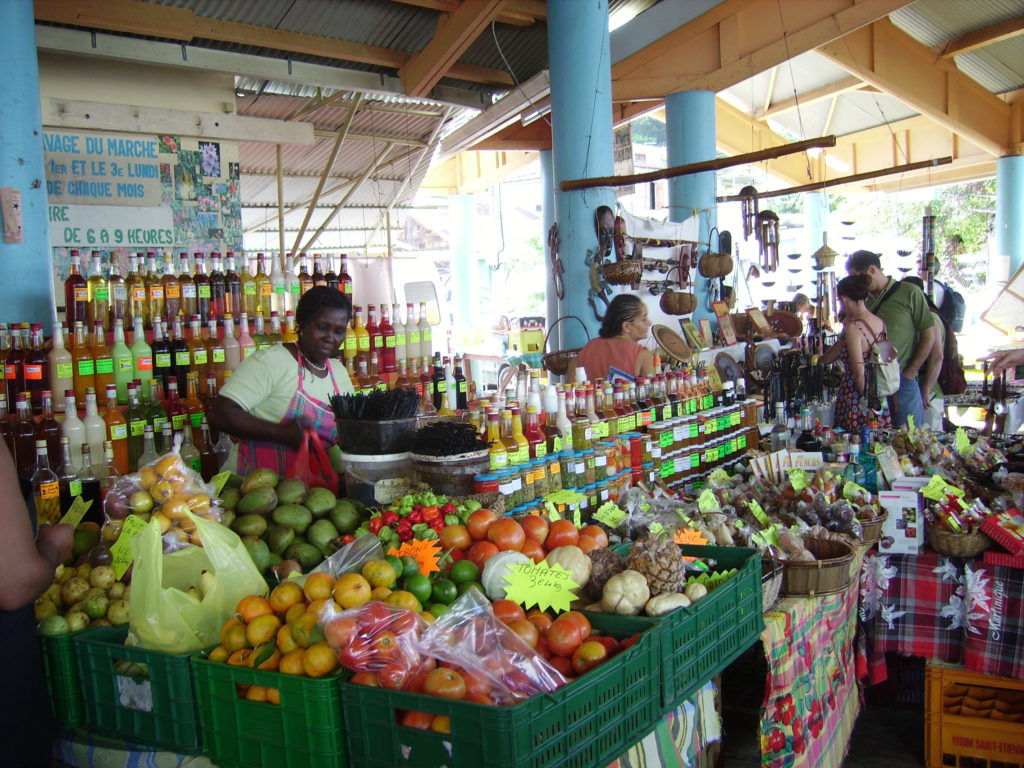 Our tips
Buy your fruits and vegetables at small local markets.
SPECIALITIES AND GASTRONOMY OF MARTINIQUE
FEROCE D'AVOCAT
NOT TO BE CONFUSED WITH GUACAMOLE, A DISH IN ITSELF

TIPS: Mash in order a big avocado, 100 gr of codfish chiquetaille, 2 limes, hot pepper as you can stand it! Add 200 g of cassava flour that you let swell then a grated cucumber... Enjoy!
FISH QUILL
Fish: cod, herring...

Excellent on grilled toast with an aperitif.
Many local artisans offer them
THE ACCRAS
Fried cod, shrimp or vegetable fritters! My favorites are the homemade lambis ones.

TIPS: Buy an accras batter from the frozen section and add your ingredients: frozen shrimp or frozen lambis
CREOLE BLOOD SAUSAGE
Very small and very spicy!

TIPS: Buy at the restaurant in Trois Ilets or at the colored grocery store next to the church in Anses d'Arlet bourg (Warning: on order).
FRIED BALAOUS
Small fish that we love in the West Indies.
They are easily eaten as an appetizer with the fingers or at the table, a real delight!
COLOMBO
Caribbean colombo is a blend of spices used to flavor a local dish made with chicken, pork, cabri (goat) or mutton.

TIPS: Ready-to-use colombo sauces are readily available and make for easy creations.
GRATIN OF CHRISTOPHINES
Christophine gratin: a kind of large pear whose taste is similar to that of zucchini, and cooked in a gratin, I love it!
DOG SAUCE
The incomparable "dog sauce" as an accompaniment to dishes, prepared with country onions, parsley, infused thyme, chilli and garlic.
STUFFED CRAB
Stuffed crab: speciality to be tasted in restaurants, too long to prepare
LOBSTER
Served very fresh in restaurants and you can order from the local fisherman on his next trip.
FISH BLAFF
Small fish placed in a marinade of lime juice, onion, bouquet garni, cayenne pepper, then cooked in court-bouillon.
GREEN BANANA
Fried and served as a vegetable usually with chicken, meat and fish, or boiled and served with cod.
The fricassees of lambis
Local shellfish served in stew, catrou and cabri.
FRUITS SALAD
To be enjoyed throughout the day!
HOMEMADE SORBETS
In particular the coconut that is made in a traditional and artisanal way on the beaches.
COCONUT CAKE
The big coconut cake, filled with coconut jam.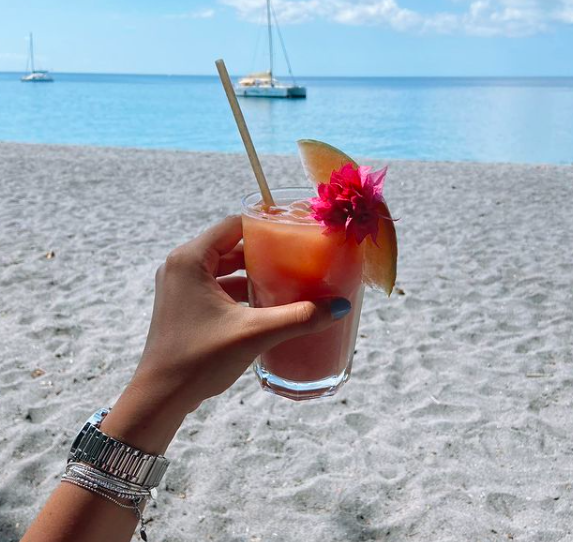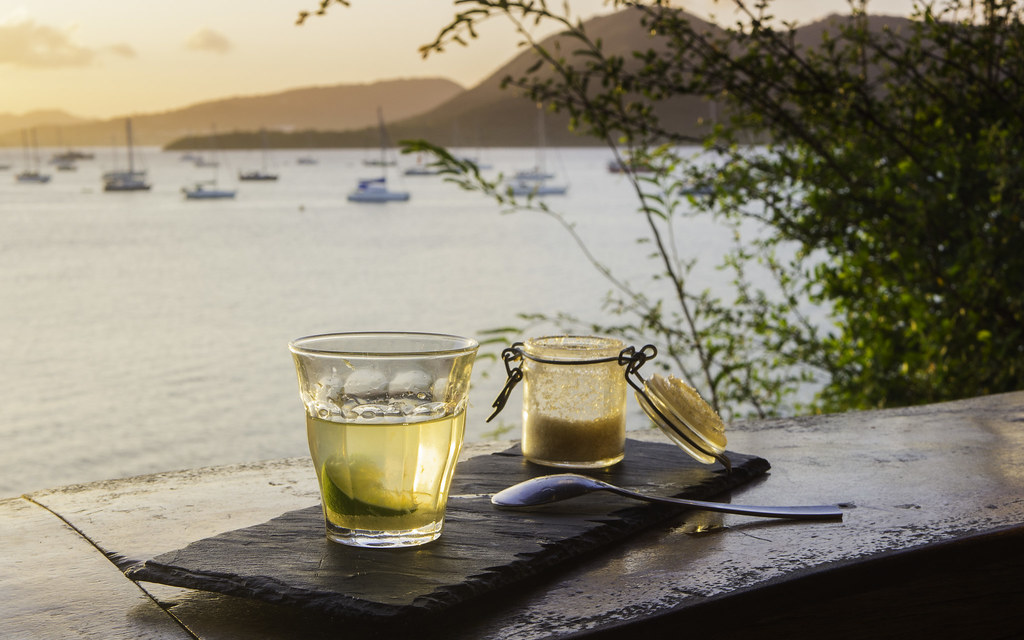 The national drink of Martinique is of course rum (a drink made from sugar cane), which you can taste by visiting the island's distilleries (click here). Whether it is white rum, old rum or straw rum, each one has a unique taste.
If pure alcohol is not your cup of tea, why not try the inevitable ti-punch?
Make your own mixture of rum, sugar, ice and lemon and discover new flavours.
For even more indulgence, we recommend you try the punch-planteur, a mixture of rum, cane sugar, lime and fruit juice.
You can also be tempted by their liqueurs, made from fruit and spices that macerate for several days in rum, or by the flagship Christmas drink, the Shrubb, a mixture of rum and orange peel.

Finally, beer lovers cannot leave the island without tasting the Lorraine, a soft and refreshing blonde or amber beer brewed in the Manatee or the Kalinago, a beer made from manioc.
These drinks should of course be consumed in moderation. Otherwise, Martinique also offers Royal Soda (made from aniseed) and a wide range of fresh exotic fruit juices made from guava, watermelon, mango, passion fruit… A delight!
Our favourites are varied and go from the Bokit tasted on the beach, through the Lolo at the water's edge to the great gastronomic restaurant, all having a mixture of sensations linked to the moment lived and shared, thus :
The cod bokit bought at the stand on the beach of Anse Mitan
The accras and the planter / fruit juice shared on the beach of Cap Chevalier, Anse du bout, Anse d'Arlet bourg while watching the sunset…
The waterfront restaurants of Anses d'Arlet bourg (only at lunchtime) or Ste Anne
Maryse's little Lolo in Petit Anse, on the waterfront, very traditional but so good !
Subscribe to the Instagram account Ti'Paradise Villa for more information about the villa and our good addresses